Association of Black Faculty and Staff Examines "The State of Black UMSL" and Offers Scholarships – UMSL Daily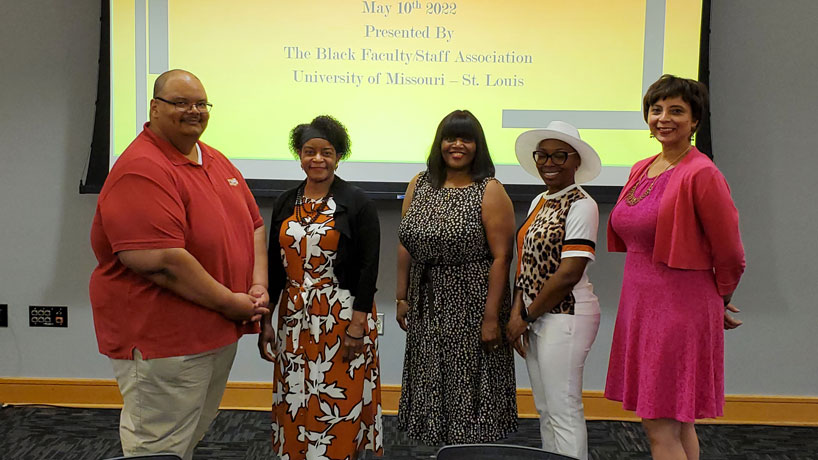 Last week the Black Faculty and Staff Association at the University of St. Louis-Missouri hosted its annual The State of Black UMSL event which reviewed the progress the organization has made and the strides it still strives to make in creating and sustaining of an equitable environment for black faculty, staff and students at the university. Four students also received scholarships.
The event opened with attendees singing the black national anthem, "Lift Every Voice," and proceeded with the introduction of new board members and a review of the past year.
New board members include Richard Middleton, professor of political science; Ciera Jessup, Business Support Specialist; and Carla Jordan, Director of Counseling and Student Services at College of Commerce and Administration.
The review noted the disproportionate loss of black staff and the continued need to add black faculty. Harry Harris, chairman of the BFSA board, said UMSL faculty and staff should match the community.
"One thing we've done is really push the effort to improve those numbers in different ways and participate in different committees so we can have a seat at the table to make sure we reinforce how important it is that our numbers really fit our community," Harris said.
The BFSA wants to continue to examine and address the issue of retention of black faculty and staff.
Harris also mentioned that the organization has connected with other BFSA groups in the UM system to increase the visibility of the organization in the UM system. Other review topics included the status of black registration.
Reggie Hill, Associate Vice Chancellor for Strategic Enrollment, briefed participants on black enrollment at UMSL, stating that currently, black students make up 16% of the UMSL student population and have a GPA of 3.5. Black women make up 67% of new incoming students, although black male enrollment is declining at UMSL and all universities due to factors such as young black men entering the workforce after high school or joining the army.
The BFSA is also focusing on ways to improve enrollment and retention of black males in addition to continuing to support black students in general.
Other issues discussed included plans to commemorate the organization's 40th anniversary, which will take place next year. It will be a year-long celebration filled with events, presentations and opportunities to connect.
At the end of the event, four students received scholarships. The students who received BFSA scholarships were Clarence Baker Jr., a senior who earned a BS in information systems; Donyell Nelson, a senior major and nurse; Chinelo Onuijbo, junior and major in biology; and Corlia Spears, a BSBA graduate in finance.
Baker Jr. appreciated that the BFSA gave him funding to help cover his education costs.
"Going through college and having to look for scholarships was really tough," Baker Jr. said. "Having to worry about, 'Oh, how am I going to pay for this, how am I going to keep going?' When you get a scholarship it takes a huge weight off your chest. You know there are people who care about you and want to see you succeed. It makes me want to succeed and do better even more.
This event was the first for UMSL's new chief of staff, Adella Jones, who agreed with the BFSA that in addition to amplifying the impact and achievements of black faculty and staff, it is important that Black faculty and staff inform education and curriculum as the university expands its reach in the community.
"This is a very critical time as we transition and grow as a campus where the voices of black faculty and staff are there," Jones said, "and judging by today , they will be."
Short URL: https://blogs.umsl.edu/news/?p=93789